Driving A Charger ...
By TI3GIB @ Saturday, May 26, 2007
[9 Comments][Permalink]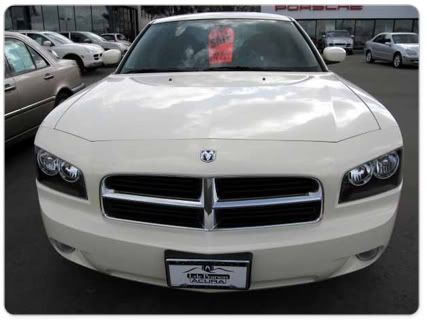 Car Specifications :-


It's every little kids dream to own an American muscle car when he grows up. The long figures, dark grilles and slick side lines leave an unforgettable and mesmerizing touch in one's memory.

But do the new ones live up with the expectations ? … The automobile industry, and many other industries recently, have been wanting to 'go back to basics'. Start again from what they started with before, only bigger and better with today's technology. It started with the Mustang a couple of years ago, and slowly, the American muscle car wagon has been heading in the same direction. Reviving the past's character with modern building , comfort and safety technologies.

Did they succeed? Yes and No. Yes, they managed to design really desirable cars. And No, they could not preserve the mean, big and raw feature old muscle cars had, and they'll probably never will.

Poetic intro's aside, and to brief it up quickly. The quest for 'the' car continues, and the next stop was the Dodge dealership. Precisely for the 2007 Dodge Charger. I've always had a mini crush on this car, every since I first saw it on the streets a year ago. It's sexy exterior, raised figure and attractive price point were enough to attract many people's attraction, quite sensibly.

The car comes in five main trim sets, the SE, SXT, R/T, Daytona, SRT-8. The SE and the SXT, at 8800OMR and 10000 OMR, respectively, come with a High Output V6 255 horsepower engine. The R/T comes with a V8 5.7L HEMI engine with MDS that gives a total output of 340 horsepower. (Multi Displacement Technology (MDS), makes the car actively use four out of it's eight cylinders to increase mileage per gallon when power is not required, and use full power when requested). The Daytona version and the SRT-8 come with the same engine the R/T version comes only bigger (6.1L) with 425 horsepower. The last two aren't available for sale in the Middle East, but there is a yellow Daytona here in Oman.

The amenity changes between the different trims could include leather seating, cd changers, fog lamps, aluminum dashes, automatic tire pressure warning systems, dual exhausted pipes and chrome grilles. All, of course purely cosmetic, but very attractive nonetheless.



My Impression :-


The car was really really nice to drive. A few countable miperfections, but no car is to come without. The car comes with a 5-Speed automatic gearbox with manual shifting ability (called Autostick for Dodge, dubbed Tiptronic, or steptronic elsewhere). For normal city use driving, the gearbox changed promptly and quietly. All the shifts felt seamless and smooth, but as soon as you WOT (Wide Open Throttle) it, it seemed a little hesitant about when it should change, and takes at least two seconds when it does. This uncertainty disappears in the manual shifting mode (which is limited to 4 out of the 5 gear options, I think you know why), however the 2 second lag still persists between shifts, and a little of the smoothness is lost.

The interior is a standard American interior, dull and black (for the SE trim, all the other trims come with Aluminum). All the Air condition knobs are manual and utilitarian. The GM people could use a little inspiration from the progress that the Asians are doing in this area (Mazda, Subaru, and Infiniti). However, don't let the boxiness of the exterior fool you, the car is very spacious and comfortable, and could easily and comfortably seat 5 people. The front seats have the 'Sport' fins on the side, that hold you back from swerving to the sides when the seatbelt fails to.

I loved the engine. At the low end of RPMs it had a really nice throaty sound to it, and the car had admirable kick (good torque, sorry I can't explain torque) to it for a V6. I'm sure driving the Hemi would be an entirely different experience, but for a low end version this car has potential with a little simple modification.

The handling was absolutely magnificent, it reminded me very much of the 3 series' handling, and I'm yet to find an area where it under preformed, or didn't preform as well as the BMW did, but I'm sure the BMW is a little more technically reliable than the Dodge.

I don't know what caused the following but there was slight tire-squealing whenever I had to drive the car from a complete stop (go into a roundabout) or to a complete stop. I'm sure the ESP (Electronic Stability Program - Traction Control). I'm sure it's just a problem with the test drive car and does not apply to a road Charger.

The braking was sharp and strong, and the paddle wasn't too ridiculously sensitive like all the other new cars. I even got to witness the ABS in action when a moron drove into my road, and it preformed well, and firmly gripped the car.

Overall, this is an absolutely gorgeous car, which I feel madly in love with. Since I drove one, I can't resist looking at every Charger that's parked or passing by. I know, if you've read this far, you'll think that I provided more cons than pros, but think of it this way, everything else in the car is perfect. Yes, perfect.



Dodge Dealership :-


Part of the infamously evil Al-Zubair group. The man I dealt with was very professional and helpful. He gave me his personal mobile phone number, and he was very keen to answer my inquiries, even when I called him after hours. He was very informed when I asked him about the Daytona's and SRT's innards, and he was very up-to-date with everything (No I'm not developing a crush on him). I didn't like the fact that there is no overnight test drives for non-currently-dodge-owners, and on Thursday (the day) they only have test drives until 1 PM, even though the showroom is open until 7 PM.



Leave comments morons,
Entry Edited, Thanks for the correction Muscati.

Labels: Me



9 Comments:
;By

muscati, at May 26, 2007 5:14 PM
gI think you meant Al Zubair group, not Al Hashar. All what Hashar has lef to sell now is Geely and Tata cars after Bahwan took away all his agencies. Doesn't Shanfari now also sell Chrysler cars? Their sales people are absolutely clueless, but they might be more willing to give you the long test drive that you want.
;By

TI3GIB, at May 26, 2007 10:18 PM
gThanks for the correction Muscati. Edited. I must've had a hangover this morning, I don't really remember :D

I wouldn't mind a long test drive for a Chrysler, but there is not a single one that appeals to me. The 300C comes pretty close, but the 22,000 price tag is way over my head.

I could go into the dealership, act rich, then take the car and play around with it. Would that work ?
;By

muscati, at May 26, 2007 11:03 PM
gSorry, when I said Chrysler I meant the group meaning even the Dodge Charger which you blogged about. You said you didn't like that they didn't give an overnight test drive, so I thought if you want that maybe you could try with Shanfari.
;By

TI3GIB, at May 27, 2007 12:31 PM
gA little confusing without the Daimler before it. Weren't they supposed to change their name to Daimler Holding from Daimler Chrysler Group by now ?
;By

muscati, at May 27, 2007 5:42 PM
gI guess it shows my age. Chrysler to me still means Chrysler, Dodge, Plymouth and Jeep.
;By

Amjad, at May 27, 2007 6:17 PM
gSounds very cool. Thanks a lot for sharing your experience with Dodge Charger and giving some information about it. Indeed interesting.
;By

Philip., at May 27, 2007 10:30 PM
gCool car!
;By

NiGhTFaCe, at May 29, 2007 10:30 PM
gI drove the car & I didn't like it at all!

The steering wheel was a way with power, I like it as my car, where you can do a sudden turn/move to the right or life without feeling that you might hit something. With the Charger, I felt myself losing control.
;By

muscati, at October 14, 2007 7:52 PM
gI was at the showroom a couple days ago. At the moment the Dodge Charger is probably the car that has the most value for money in the market. No other car comes close to it at the price. I'm getting a test drive later in the week or early next week.

Interstingly, they have one or two 2006 300C's still unsold which they are offering for RO. 13.8K, and that's before you start bargaining.