Driving The Santa Fe
By TI3GIB @ Tuesday, June 05, 2007
[6 Comments][Permalink]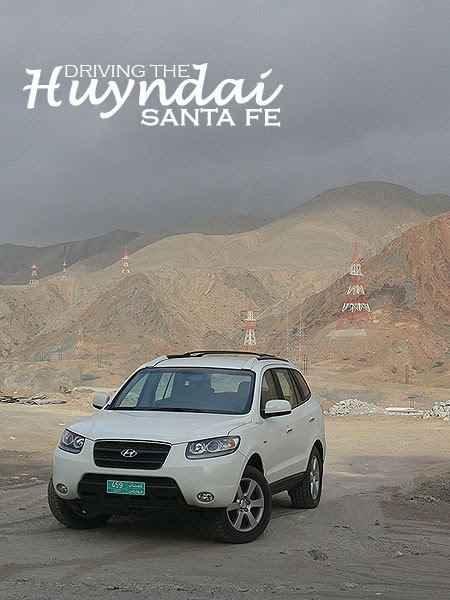 Poor man's Touareg. I know it's not up to par to some of your standards but I wanted to have a look at it, and so I did.



Specifications & Trims :-


The 2007 Hyundai Santa Fe originally comes in three different trim packages. The GLS, the SE, and the Limited. They all come with V6 engines, the GLS comes with a 2.7L one, and the other with 3.3L ones. We here in Oman, being a fourth-world country, only have an anorexic version of the GLS.

The car has a very raised stance. If you ask me, I'll say the figure looks exactly like a Volkswagen Touraeg which costs loads more. The headlamps give are probably the most attractive thing about this car, it's positioned in a way to make it adjacent with the front bumper, the hood and the side shoulder all at the same time. All the Santa Fes come with a cheap looking front grille with a chrome Hyundai emblem and a cheap plastic looking front slotted grille. You also get 18" alloy wheels, which we'll come to later.

Even though it looks like a normal SUV, Hyundai are promoting the Santa Fe as "the first SUV in the world to come with a 7-passenger capacity". Two in the front, three in the back and two in the row behind that, all comfortably seated. That leaves absolutely no usable trunk. However, both seats in the back row can be folder down to create larger cargo size, which doesn't exactly go with Hyundai's 7-Seater plan.

The trunk space is not the only problem in making this the "Family Trip Car" that would take you to Jabal Al-Akhdar or Musira. The DOHC 3.3L V6 engine that comes with the car cannot offer enough torque power to give it any give, and 185 ponies cantering under the hood don't suffice this way. In english, you have a big V6 engine that basically drinks up alot fuel and doesn't pee it back in power. Not only that, but the car comes with a 4-Speed Steptronic (Tiptronic) gearbox, which means the fuel consumption will increase vastly when you hit speeds of above 120, because it's on fourth gear and is revving too much, not to mention putting too much strain on both the engine and the gearbox, which sounds like it could develop into trouble in a couple of years under heavy use.

Sitting in the driver's seat. You have a beige two-toned cloth (no leather option) under you. Your average Korean dash speed and RPM dials and other gizmos in front of you. Behind you, a lot of space and breathing area. Above you, nothing (car doesn't have a sun/moon roof option). And in your hand, is a fake leather steering wheel that hosts push-button controls for the Cruise Control and the Audio. It comes with a double-DIN average joe's radio and MP3 CD player, and the AC controls (which blows quite hard) are minimalistic and manual.



My Impression :-


I know I spent the last 5 minutes of your reading tell you more and more reasons of why you should NOT buy this car. No car comes without flaws, and this one has quite a few, but when it's on the road it feels very nice to drive.

It feels raised and it compliments your view of the road and the road's view of you. It's insanely quite inside the cabin, and so it's very calm and serene while driving. There's a lot of space under the steering wheel giving you an airy spacious feel in and between your legs. The passenger side front seat however, doesn't go back that much giving a large person little room to spare. The backseats could easily seat four people comfortably with enough leg room to salsa (not really).

The engine is crap. Crap crap crap. I have nothing else to say about it, and don't expect to stop paying big on this car when you're done with it's 8,750 OMR price tag. It will drink fuel like an Irishman in an open bar, the 4 speed changes, the V6, and the All-Whee-Drive (All time four wheel drive). Those three are not a promising sign to future comfortable-wallet.

To wrap up, I'd say this car was designed in heaven and built in hell. The exterior looks very attractive and the back row seat option gives it a huge boost up, but the people who were in charge of taking the design making and making it a car did an awful job. It really is, as I expected, a very nice car.



The Stealership :-


OTE (Oman Trading Establishment), they were very friendly and helpful. They seemed professional in all matters, but they told me the car should be ready by 10 Am which it wasn't, but I can't blame them with all the hurricane crazy going on today. I might've could've taken the car for over night but I didn't want to keep it with me in case anything was to happen.

I'm very very disappointed that they only have this single trim option of this car and couldn't get the other 3.3L engine with 5-Speed automatic gearbox which comes with 324 horsepower that give a lot more from under the hood to under tires. Maybe since it's the car's first year, they're just making this year a trial year and will start getting more options when the new one comes.

I also got to see the new Hyundai Azera. A very beautiful car with a simple exterior and a very elegant (for Hyundai standards) interior. It comes with a good engine (supposedly) and the weather used for the interior trim matches the ones used in BMW, Mercedes and Lexus. Very conservative and chique. The setback ? ... a 10,000 Rial price tag, for a Korean Hundai.


Labels: Me



6 Comments:
;By

Amjad, at June 06, 2007 8:58 AM
g10,000 for the Hyundai Azera? Get a Charger instead of wasting your money on a Korean car.

Anyway, and what about the Santa Fe? How much does it cost? If it also costs something like 10,000 or 9,000 I really think it's not worth it.
;By

NiGhTFaCe, at June 07, 2007 6:04 AM
gThough they are copying the VolksWagen Touareg, especially if you check the tail lights.

I will never think of Hyundai.
;By

Fast_HacKinG, at June 08, 2007 7:46 AM
gGet the Lexus RX350, superb car man. I'm considering of buying it, although, IS300 is a good choice, too.
;By

TI3GIB, at June 08, 2007 1:42 PM
gAmjad
Did you see the Azera ? The Santa Fe costs 8750 in dealer money, which is around 8500 Rials in the real world with 35,000 Kilos of free service, and free insurance and registration for the first year

NightFace
Why not ?

Fast Hacking
RX man ? .. It's not too attractive, too small and too expensive. What's your side in it ?
;By

NiGhTFaCe, at June 08, 2007 4:09 PM
gBecause its Hyundai!!

Check the Nissan Murano. Do you need an SUV?!
;By

Amjad, at June 08, 2007 5:19 PM
gti3gib: I only saw it from the outside .. I saw model 2006. Dunno if the shape of the new model is different. Is it?