On average, I read somewhere between 50-70 articles on technology and gadget news per day. I've never ever reblogged any of these articles here, because, if any, people shouldn't be here reading something they can read somewhere more dedicated.
This all changes today, because I just saw the
R3 UMPC
from Asus, and I feel utterly compelled to let people know about it. Asus haven't release any technical details so far, but it appears that the device sports a 4.8-inch screen with 1024 x 600 resolution, a fingerprint reader, a video conference webcam and built-in GPS.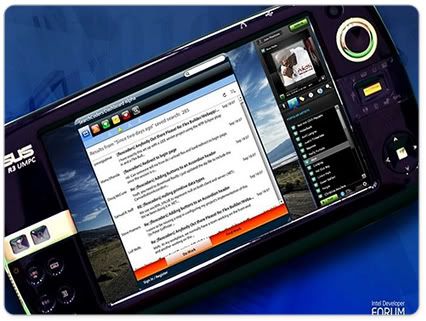 It just looks absolutely astonishing, and that screen looks incredible. The whole glossy button-crammed face, it's just gorgeous. I wouldn't mind getting one if they keep the prices down, not screw up the text-input system (fancy word for screen keyboard) like Apple did with the iPhone, include multiple SSD drive options, and of course a solid OS.
It's based on the new Intel Menlow platform which was previewed in a few devices aside to the R3 in IDF2007. This new platform is going sounds very promising in terms of what UMPC's (Ultra Mobile Personal Computers) in the next year are going to be like.
I can't wait for more details on this. Below, Asus' Keynote in
IDF2007
, which shows a few screen on what the UI should look like.